Executive Director's Corner
Letter from the Executive Director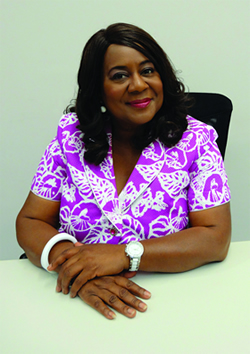 To the RVA Community:
Transportation continues to be a hot topic nationwide, and especially in the RVA region! How exciting to witness, in its many forms, whether for work commutes or recreational activities the emerging technologies and the ongoing construction of bus rapid transit. RideFinders, a division of the GRTC Transit System, remains focused on providing superior transportation solutions and options delivered through stellar customer service. According to the American Public Transportation Association website, "people board public transportation 35 million times each weekday. Since 1995, public transit ridership is up 34 percent, outpacing population growth, which is up 21 percent, and vehicle miles traveled (VTM), which is up 33 percent." We are honored to do our part in supporting, promoting, and educating businesses, communities, officials, and the public about the importance of transportation and mobility options and their correlation to air quality AND the quality of life. The ongoing commuting challenges faced by employers, employees, and every day citizens provide unique opportunities to the RideFinders team to assist in sharing best industry practices on a customized level.
While infrastructure will always be a key component in people getting from here to there, RideFinders free programs and services offer cost-effective, traditional and innovative alternative opportunities that incentivize and assist travelers in making smart choices- whether using public transportation which includes riding the bus and/or vanpooling, ridesharing occasionally or on a daily basis, biking, walking or telecommuting. RideFinders "On the Move" mobile app is available for ios and Android users, and is consistently updated with Park n Ride Lot information, vanpool news, promotional campaigns, air quality information, and so much more! RideFinders partners closely with GRTC to provide the public and our business partners with the latest service announcements, and was very engaged in being an integral part of the recent $10 Go Card Exchange project. We continue to house transportation -related documents for public viewing and comments so that interested citizens have a convenient location during the work day to participate in the planning process and decision-making process. We continue to provide a centralized, easily accessible venue to purchase EZ pass transponders, the Flex Pass and replacements strips, stamps, umbrellas, a variety of novelty items, in addition to transit fare media and application forms for CARE. Facebook, Twitter, and Instagram remain a core part of our communication network.
FY17 (July 2016 – June 2017) was a very busy year with great results! RideFinders is proud to have served over 1,520 new registered clients clients, 109 registered carpools, served over 7,413 walk-in clients, and added 48 new Employee Transportation Coordinators (ETCs), and provided over 118 Emergency Ride home trips. Additionally, we started 10 new vanpools! The vanpool fleet commutes resulted in the following statistics: 46,152 Passengers; 88,786,874 Passenger Miles, 1,208,355 Passenger Trips.
The Commuter Store sold $319,758 in transit media, $167,335 in vanpool vouchers and $14,000 in EZ passes, and almost $100,000 in Credit/Debit Card sales.
This past summer, RideFinders took advantage of the opportunity to participate in the Federal Certification Review process for the Richmond Regional Transportation Planning Organization (RRTPO) and the Crater Planning District Commission.
We continue to partner with municipalities, state agencies, chambers of commerce, business entities, service organizations, the Virginia Transit Association, and citizens on transportation related matters that impact congestion mitigation, air quality and the environment, economic vitality and sustainability, and the quality of life.
Those TV commercials and radio ads that spread the RideFinders story were truly an award-winning collaboration. RideFinders received the Outstanding Marketing Campaign Award from the Chesapeake Chapter of the Association for Commuter Transportation (ACT) for this exciting awareness campaign. While we live in a rapidly changing culture, some things remain the same. Whether you seek to "hit the road" by riding the bus, carpooling, vanpooling, biking, or walking OR stay off the road entirely by teleworking, or seek ways to help make your employees commute more economically and environmentally sustainable, I invite you to visit ridefinders.com, call 643-RIDE, or download the mobile app to your phone today! We can help!
We are passionate about fulfilling our mission and are looking forward to another year of serving the RVA region making 2018 another banner year! We could not do it without the financial support of our funders (RRTPO, DRPT, Tri-Cities MPO, the City of Richmond, Chesterfield County, Henrico County), and YOU!
At Your Service,
Von S. Tisdale, Executive Director
That's RideFinders….the region's rideshare resource!