Executive Director's Corner
Letter from the Executive Director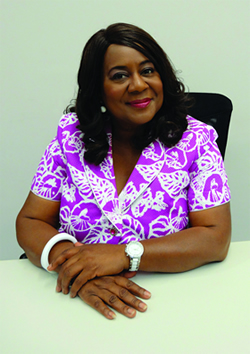 To the RVA Community:
Transportation, in its many forms, whether for work commutes or recreational forays, remains a vital issue in our region. RideFinders remains focused on providing superior transportation solutions and options delivered through stellar customer service. According to the April/May 2017 Mass Transit publication, recent studies indicate that Americans rely on their personal vehicles for 83% of their daily trips while only 10 percent of their travel is by foot and one percent by bicycle. The commuting challenges faced by employers, employees, and every day citizens provide unique opportunities to the RideFinders team to assist in sharing best industry practices on a customized level.
Technological enhancements to RideFinders free programs and services aid in the customer experience. RideFinders uses NuRide software for real-time dynamic ridesharing that incentivizes registrants to log their trips to receive great rewards! Information on RideFinders "On the Move" mobile app is constantly updated to keep you abreast of Park n Ride Lot information, vanpool news, promotional campaigns, air quality information, and so much more! We transitioned to another credit card acceptance vendor in order to accommodate a broader customer base so that purchasing transit fare media would be easier and more convenient. Not only do we offer a centralized, easily accessible venue to purchase EZ pass transponders, due to customers' request, we've added the Flex Pass and replacements strips. Social media engagement remains a core part of our communication network.
In FY16 (July 2015 – June 2016), RideFinders is honored to have served over 10,000 registered clients, over 143 vanpools, more than 6,800 walk-in clients, and over 580 liaisons at businesses and organizations in our service area serving as Employee Transportation Coordinators (ETCs). We sold $306,704 in transit media, $254,878 in vanpool vouchers and $15,960 in EZ passes. For the first time in our history, we also hired an Intern, who's majoring in Urban and Regional Studies/Planning, from Virginia Commonwealth University's L. Douglas Wilder School of Government and Public Affairs.
We continue to partner with municipalities, state agencies, chambers of commerce, business entities, service organizations, and citizens on transportation related matters that impact congestion mitigation, air quality and the environment, economic vitality and sustainability, and the quality of life.
Keep your eyes and ears open for our upcoming TV commercials and radio ads that will help spread the RideFinders story. Whether you seek to "hit the road" by riding the bus, carpooling, vanpooling, biking, or walking OR stay off the road entirely by teleworking, or seek ways to help make your employees commute more economically and environmentally sustainable, I invite you to visit ridefinders.com, call 643-RIDE, or download the mobile app to your phone today! We can help!
We are passionate about fulfilling our mission and are looking forward to another year of serving the RVA region making FY2018 a banner year!
At Your Service,
Von S. Tisdale, Executive Director
That's RideFinders….the region's rideshare resource!