RideFinders Wins National Best Social Media Marketing Award
Aug 09, 2021
RideFinders is honored to have won the 2021 Association for Commuter Transportation (ACT) National Best Social Media Marketing Award category (Marketing and Outreach) for the "Celebrate Earth Day, Every Day," Clean Air Campaign. We would like to thank our partners, area commuters, stakeholders, social media followers, and the community for making the campaign a success.
This campaign maximized the focus on sustainability initiatives that included increasing educational awareness of and encouragement of implementation of "green" commuting and "green" environmental actions such as recycling, and waste management. The varied social media platforms showcased RideFinders' staff executing the green strategies, two (2) signature series such as "Visits with Von" and "We Read Wednesdays," a successful telework campaign that resulted in a monetary donation of $500 to Feed More from our software developer on behalf of RideFinders, some beneficial new partnerships, and impressive social media statistics.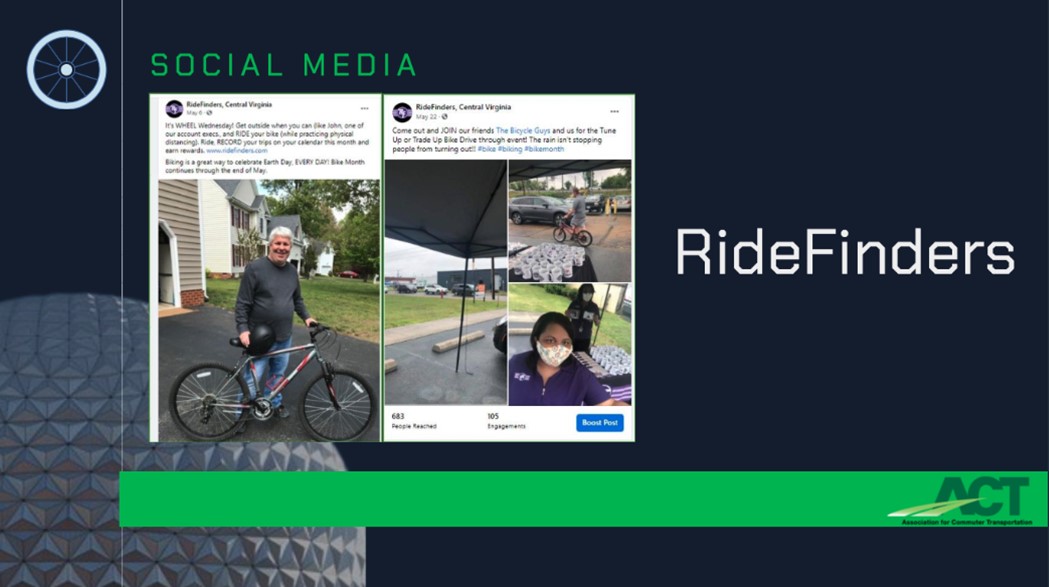 The Marketing and Outreach Award recognizes one organization in each category: Best Print Marketing, Best Social Media Marketing, Best Website Launch or Revision, and Best Overall Marketing Campaign. These categories recognize strategies or campaigns that were designed to educate and inform an identified audience about their commuting options, the impacts of transportation on the environment, transportation planning, and other related topics and concerns. The winning strategies and campaigns will have demonstrated a high level of creativity and originality, and can show measurable results including increased audience engagement, increased brand awareness, mode shift, or significant behavior change.